Service
at the Center
We are a provider of parts, warranties, and service for most makes and models of floor care equipment and other commerical and retail equipment.
Service is our business - We are the experts!
Emergency Service - On Site Repairs
Triad offers Emergency Service. We understand how emergencies jeopardize cleaning schedules, and so we'll take care of the problem today!
We guarantee our work. If you are not satisfied with our performance please let us know right away - you must be happy or there will be no charge. Available to all PM Customers.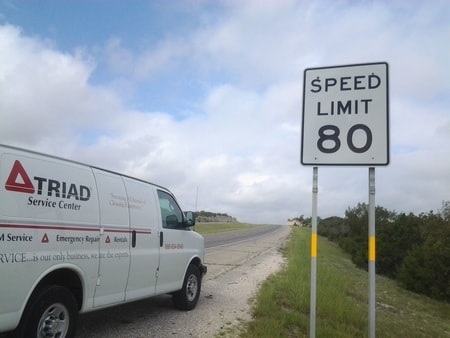 Programmed Maintenance
Packages

:

The Triad system provides complete Preventative Maintenance packages to improve productivity, control costs, and lengthen equipment life. We offer:
Professionally trained technicians
Specialists in the maintenance and repair of many kinds of equipment.
On-Location service for heavy equipment
Technicians equipped to make repairs at your facility, or pick up and deliver as needed.
Computerized report detailing service
With our complete service records at your fingertips, you have stronger asset management of your equipment.
Safety inspections
Thorough system-by-system inspections help assure machine safety and reduce exposure to equipment-related hazards.
24-Hour on-location response time
Get your equipment up and running fast. Emergencies are taken care of today.
Triad

Scheduled Maintenance

The following list of services represents our actions for Scheduled Maintenance Customers:
Perform Scheduled Maintenance inspections
Record and track calls in a service report
Maintain a Scheduled Maintenance program
Weekend and holiday emergency service is available
Detailed service activity reporting available
Technicians are trained, professional and fully insured.
Safety first. A machine that is unsafe to use will be rendered inoperable, if not repairable.
Replacement rental machines can be made available.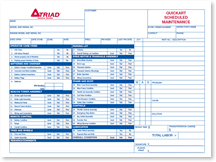 Equipment Installation & Training Services
Triad offers expert installation and onsite operator training for a wide rang of equipment in commercial and retail environments. The instruction involves proper placement of equipment, operator training on proper equipment use, maintenance items and service process details. This instruction is critical to the long-term success fo your investment, and can be for new or existing operations, and performed on the shift that best suits your needs, with minimal disruption to your work schedules.
Triad installs and provides onsite operator training for floor equipment, grease tank systems, racking systems, checkout lanes, wheel service equipment, and material handling equipment. Triad performs all installations with Triad Direct Technicians.

Equipment we service includes:
Floor Care Equipment

All Star
American Lincoln
CFR
Eagle
Halo
I.C.E
KaiVac
Karcher
Kent
Koblenz
Nacecare
Nobles
NSS
Onyx
Pacific
Phoenix
Pioneer Eclipse
Powerboss
Powr Flite
Pro-Team
Pullman-Holt
Sandia Plastics
Sanitaire
Square Scrub
Taski
Tennant
Timberline
Tom Cat
Trident
Triple S
Tornado
Windsor
Bike Lift / Overhead Storage Systems

Leggett & Platt
Spacemaster
Burden Carriers, Golf Carts & Tuggers
Carpet & Tire Carousels
Cart Containment / Retrieval
Central Vacuum Systems
Checkout Lanes

Accent
Borroughs
Laicor
Killion
Killion & Lyons
Pan Oston
Royston
Quadra Alliance
Chemical Dispensers
Cooler & Freezer Curtains
Dock Levelers

Advance Lifts
Blue Giant
Pioneer Dock Equipment
Rite Hite Dock Levelers
Electric Shopping Carts
Grease Containment Systems

Cleanstar
Darling International
Direct Connection
Faith Tank
Goslyn
Grease Stopper
Onkin
LPG Kiosk System
Pallet Jacks & Small Stackers (Manual & Electric)

Big Joe
BT
Caterpillar
Crown
Lift Rite
Little Mule
Mighty Lift
Multiton
Pallet Mule
Presto
Raymond
Yale
we can fix most every brand
Paint Equipment

Dromont
Fluid Management
Harbil
Hero
Radia/Red Devil
Racking Systems

Leggett & Platt
Spacemaster
Syndicate Systems
Receiving Conveyors

Aftersort
Best
Flexible
NestaFlex
Robotic Parking Lot Sweepers
Steam Cleaners / Dry Ice / Disinfecting

Falcon Pro Steam Cleaners
Geneon
Nu Age Dry Ice Equipment
Tire Diagnostic Scanners