Triad
Service Center
We are a provider of parts, warranties, and service for most makes and models of floor care equipment and other commerical and retail equipment.
Service is our business - We are the experts!
Specialists in Fast and Reliable Service
Professionaly trained technicians
Specialists in the maintenance and repair of your equipment.
On-location service for heavy equipment
Manufacturer-trained technicians are equipped to make repairs at your facility or we pick up and deliver as needed.
Computerized reporting
With our complete service records at your fingertips, you have stronger asset management of your equipment.
Complete safety inspections
TRIAD's thorough system-by-system inspections help assure machine safety and reduce employee and customer exposure to equipment-related hazards.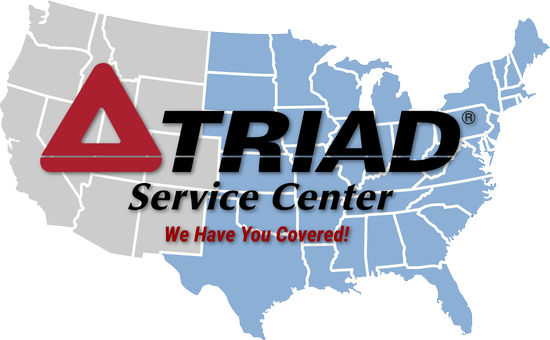 Serving Eastern and Midwest US!
Support centers:
Alabama, Arkansas, Connecticut, Delaware, Florida, Georgia, Illinois, Indiana, Iowa, Kansas, Kentucky, Louisiana, Maine, Maryland, Massachusetts, Michigan, Minnesota, Mississippi, Missouri, Nebraska, New Hampshire, New Jersey, New York, North Carolina, North Dakota, Ohio, Oklahoma, Pennsylvania, Rhode Island, South Carolina, South Dakota, Tennessee, Texas, Vermont, Virginia, West Virginia & Wisconsin.
Added Service and Parts Offerings!
We have also added similar personnel products at the request of customers which has broadened the services we provide. This again has reduced costs for our partners and added value. Now instead of having multiple vendors onsite performing maintenance and incurring extra travel and fuel charges, the Triad representative handles multiple repairs with just one phone call.
More than Cleaning Equipment
The equipment that we offer repair and parts for includes:
Floor scrubbers
Burnishers
Carpet Extractors
Handicap Shopping Carts
Movable Racking Systems
Belted Checkout Lanes
Paint Shakers
Shopping Cart Retrieval Equipment
& More!
Our technicians can work on most anything mechanical. Call us to see if you can help with your specialized equipment.