Repair a Floor Cleaning Machine or Replace it?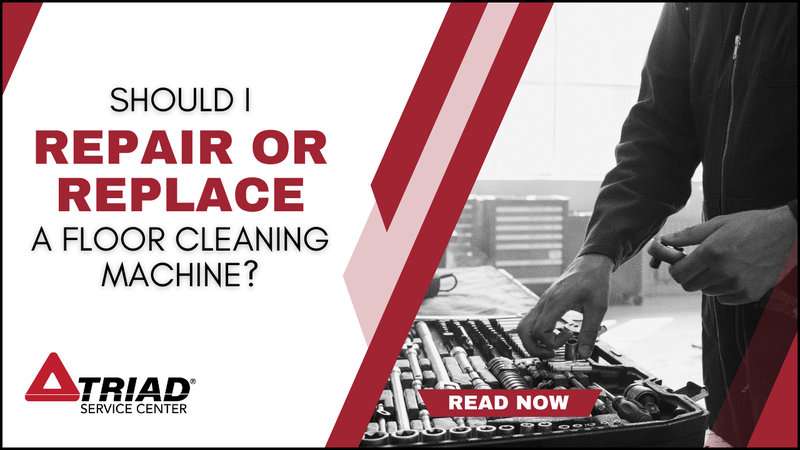 Is there any piece of equipment more useful and more quintessential to the janitorial industry than a floor scrubber? Think back to your school days, then picture your school's janitor in your head. What are they doing in your mind's eye? Scrubbing the floor?
Thought so!
The old faithful floor scrubber is one of the most widely used and important tools in the industrial cleaning industry. However, even the most faithful piece of equipment can start to develop faults or lose its efficacy over time. For this reason, having a great running piece of equipment is your main concern. As you may already know, even simple machinery repairs can end up being very costly. What do you do when floor scrubbers go wrong?
The choices can represent something of a dilemma. Do you repair this handy tool or do you replace it? Let's look at the advantages and disadvantages related to replacing or repairing your floor cleaning machinery.
The Argument for Repairs Over Replacement
Unfortunately, we live in an age in which many are quick to write off tools after they stop working, even when they still hold value. The non-working machinery can represent hefty capital investments, which may not have been recaptured yet due to depreciation rules. For working within a budget you may have to "make do", get resourceful and consider the facts. Replacing a perfectly repairable piece of equipment can result in unnecessary company costs and junking it is a huge environmental no-no.
When the electrical components in industrial floor cleaning equipment are thrown into landfill waste they can leak harmful compounds into our lands/oceans. That's not great for your enterprise's green credentials.
Still, environmental stewardship is far from the only reason why you should always consider repairing your floor scrubber before you replace it. Replacing and disposal of the old one can also cost the end-user much more money at the end of the day. Does your company have money to waste? I think "no" is the answer to that question for most of us.
The way to go is to get your floor scrubber refurbished like new for the best price out there.
You Know the Machine
When you invest in a new machine, you need to factor in a number of things to ensure that it's a good fit for your business. There are a number of things you will want to consider.
Does the machine have the specs you are looking for and is it user-friendly?
Will it fit through your myriad doorways?
Will it use the most energy efficient batteries?
Are the parts it uses readily available?
Do you know where to turn for maintenance?
These are just a few of the things to know when you're interested in buying…….wow, this may be some work.
Your existing machine, however, is a known and reliable commodity until now. Your janitorial staff already knows how to use it effectively and efficiently. Its operation is ingrained in their muscle memory at this point if they have been at a while. A replacement could slow them down while they get to know the new machine. Slowing down the work means more costs to your firm and more frustration for the staff trying to get the job done. Fixing the machine you have with a snap of the fingers would be nice, but impossible. Believe it or not, now there is a way to do it without much trouble at all..and most importantly less cost than buying new.
Repairs Can Be Cheaper and Effective
The simple truth is that the cost of floor cleaning machine repair is pretty much always going to be cheaper than a replacement. What's more, a speedy repair with the right floor scrubber replacement parts can help to get your machine back up and running again with a bare minimum of downtime.
Another benefit of repairing is having a great team on your side working to get it right the first time– our extensive parts sourcing means that we can always get the right parts for your equipment at the best price, which brings us to…..
Replacement Parts For Floor Scrubbers
One of the primary barriers to effective repairs is not being able to source the parts. Fortunately, no matter what make or model machine you use, we can find the floor machine replacement parts for it and source them quickly at the best possible price. We have a wide variety of repairs available to recondition and repair your machinery to tip-top shape. Working with us will prove to be the fastest way to get you up and running again and with our team of experts, you can get the help you need.
If You Replace, Consider Buying Refurbished or Pre-Owned
If you feel that a replacement is the only way to go or that your floor care machine is beyond repair, don't sweat it there is a solution that makes sense. The fact that the old machinery is out of commission doesn't mean that you need to bear the expense of an entirely brand new one.
IMAGE Floor Care Machines for Rent
© https://www.triadservice.com