Is Renting Floor Care Equipment a Better Option Than Buying New?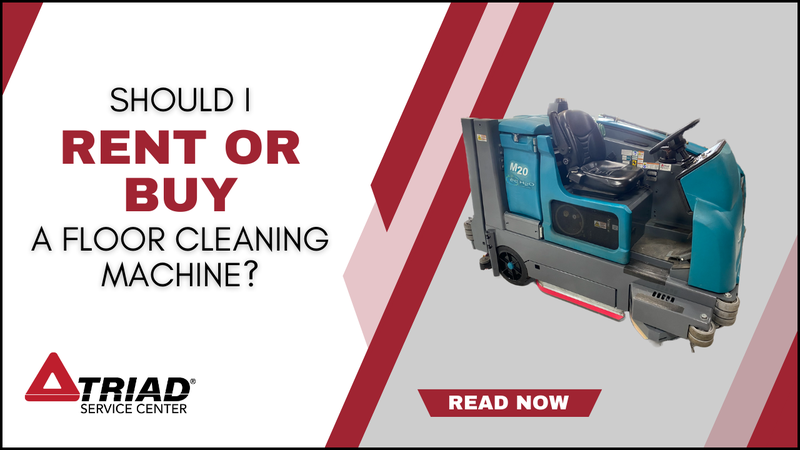 Rent or buy floor care equipment 
The answer to the above question lies in considering many factors and it might be your personal preference. Below you will find a few things to take notice when you are making a decision on how to obtain floor cleaning equipment.
Rent Floor Scrubbers
For some, the easy way to go is to rent floor care equipment and it serves as a great solution for deep cleaning, especially when there are repair services done on the normally used in-house machine.
Renting floor scrubbers is the best option for temporary use or one-time jobs. Why purchase something you will not use more than once or twice?
Depending on your requirement or need you can rent it for a few days, a week, or a month. The beauty of this is the ability to send it back as soon as you have completed a cleaning job and no longer need it, paying only a fraction of the cost of a purchase.
The rental prices for sweepers and floor scrubbers are getting more affordable to the end-user. Often there is only a minor cost if you wish to keep the rented equipment for a longer than initially planned and the ease and convenience of renting equipment make this a smart choice for a large number of businesses.
Not to mention the ability to take 100% of the expense of the equipment rental at tax time. Normally you must spread your expense out over the lifetime of the item you buy, but not with renting since the expense is fully captured that same year which can also be beneficial to a business for several reasons.
Renting for some time may seem a little bit expensive to some, but when you rent from a reputed floor cleaning service & equipment provider, you're likely to receive much better value overall due to all the extra benefits. There is no maintenance costs that you are responsible for and they include the brushes as well as the squeegees.
Buying a Floor Scrubber
IMAGE: Buy Floor Cleaning Machines Image credit: PJS
Buying floor cleaning equipment is going to be a much larger investment up-front, but it can pay for itself within a few jobs potentially.
In general, purchasing floor scrubbers is for more established businesses that need to use floor care equipment more often. For instance, if you only need a floor scrubber a few times a year or for that rare job then buying may not be for you.
On the other hand, if you think you need the equipment on a semi-regular basis then purchasing the floor scrubber would be the better value. Consider how often you need the equipment and go from there.
Manual labor costs on deep cleaning can be reduced by buying the right floor scrubber or cleaning machinery for your cleaning needs. As a business owner, a scrubber can typically save you hundreds or even thousands of dollars since you're able to get much more cleaning done in less time. Time is money and good equipment can save you tons of time.
It can also save you the trouble of going over the floor several times by hand, or worse yet, having a customer call you asking you to do it over again for free. A clear benefit to maintenance professionals is the ability to get more jobs completed in less time. As well, with much less effort while having more efficiency on the job.
The payment or costs associated when you choose to buy a floor scrubber often depends on what it is used for and how long you can keep it. In other words, you may have to spend more if it is used daily in your business in order to get the best value from it. Certain scrubbers are more heavy-duty machines for large jobs so scale it for what you need.
Buying refurbished floor care equipment is a good way to save money and get your money's worth out of your equipment. To get qualified for the purchase of new floor scrubber equipment, you need to have demonstrated excellent credit status. In-depth and time-consuming credit applications are used by many companies for purchases as well as rental.
Either way, make sure you have a plan before you are in a bind, renting or buying processes take a few days.
Purchasing floor cleaning machines have advantages over renting because over time it will actually cost less to you or your company, especially if it is being used more often. Secondly, you can sell floor cleaning equipment after your need for it ends or when you want to upgrade.
On the other hand, when owning your own equipment you will be responsible for any repairs outside of the warranty and must depreciate the cost of the purchase over the IRS guidelines for several years rather than the year you made the purchase. So there's ups and downs to buying your own floor care machines, but the pros tend to outweigh the cons for most cleaning professionals.
One item to consider keeping your machine in good condition and in its best operating condition is to have Preventative Maintenance or Routine Maintenance performed by a service professional. Flat Rated PM options are available.
Should You Buy or Rent?
IMAGE: Rent Floor Cleaning Equipment Image credit: buyvaluablestuff.com
When the time comes to decide whether to buy or rent floor cleaning equipment, two questions arise.
1) How frequent is the equipment going to be used?
2) What is the adaptability feature of that equipment?
If the equipment is being used on a regular basis the probability of purchasing the same will be stronger than renting or leasing it. If renting costs higher than owning the equipment, perhaps it would be wise to purchase.
It is an important aspect to plan carefully because that involves future events. Thorough calculations should be done on past usage patterns and future predictions.
If the frequency of usage is low then renting is more suitable than purchasing. The deciding authorities may not be able to justify purchasing the equipment only using cost comparison, but they have to consider issues like health hazards and safety or what would happen if the equipment was lost.
In a nutshell, buying tends to be more suitable if the equipment will be used regularly as to where renting suites people who are looking to use the equipment for a short period of time. You can also purchase refurbished equipment as they are usually like-new and can be bought at a significantly cheaper rate.
BUY FLOOR CLEANING EQUIPMENT Save BIG on our refurbished floor care equipment for sale.
RENT FLOOR CLEANING EQUIPMENT Rent the right equipment for your next project with Triad.
© https://www.triadservice.com