Benefits of Renting Floor Cleaning Equipment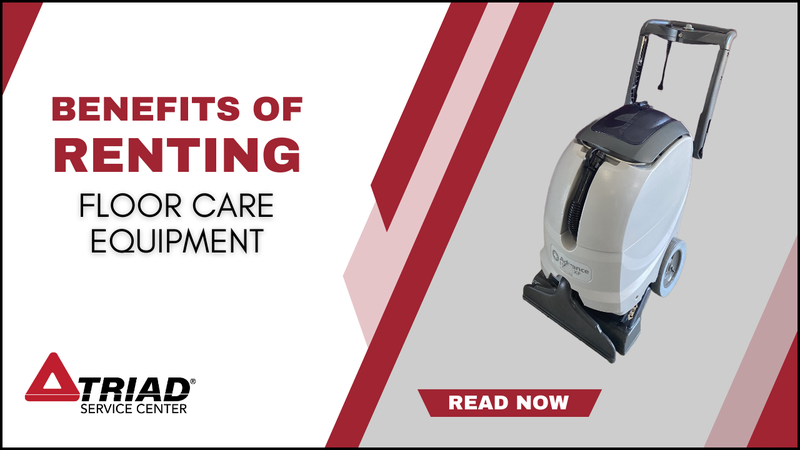 Why Rent Floor Care Equipment
Renting commercial floor cleaning equipment can be a very cost-effective business practice for companies large and small. Purchasing the necessary cleaning equipment for large commercial buildings can cost hundreds of thousands of dollars, or more depending on the size of the building and types of equipment needed. For many business and property owners, these high prices are prohibitive, leaving them to use low-quality, subpar machines that aren't able to adequately meet the needs of their facility.
To help provide a solution to these high costs beyond our already amazing quality repair, maintenance, and services to cleaning equipment, we are offering high-quality equipment rental options to help boost facility productivity and efficiency.
Our company is equipped to provide quality, reliable and safe machines for your use for a minimum period of three days. All of our rental equipment is inspected before and after each rental and tested and operator instructed by one of our professionally trained technicians.
Additionally, we provide special rates and discounts for customers who utilize the equipment for longer periods of time. Those who are learning more about the discounts and specials provided can be found by contacting us via our website.
How To Receive Rented Floor Cleaning Equipment
We currently only ship rented floor care equipment in the midwest area of the United States. Receiving your rented cleaning equipment is done via freight directly to your location, which needs to be approved by our sales team prior to shipping. This ensures that our machine makes it to your location on time and in the condition agreed on when you put in your rental request.
We always have one of our trained technicians to inspect any machines that you rent before and after use to make sure that the cleaning equipment is safely and effectively used for the job that you need done. Renting cleaning equipment from other providers can lead to subpar results due to old, outdated or faulty devices.
With Triad, customers can feel confident when renting thanks to the extensive service history maintained on each piece of equipment provided. The additional peace of mind has led to Triad becoming a go-to name for equipment rentals, service and more.
© https://www.triadservice.com